Pixelated Retro Blend Cane
While doing a project for my new book "Polymer Clay Bracelets" I was doing an extruded veneer for a bracelet. I had some leftovers with which I just played around a little bit – I stacked it, compressed it etc. Then, when I cut it open I suddenly had this beautiful blended rainbow cane in front of me. The original veneer was a spiral and so the cane I had now was not a rectangle – it was more shaped like a piece of cake. I definitely had to try and figure out what had happened inside this extrusion and translate the whole process  into a rectangular shaped cane. I called the cane "Pixelated Retro Blend Cane" – maybe you guys come up with a better name for it:)
So, here is how it's done: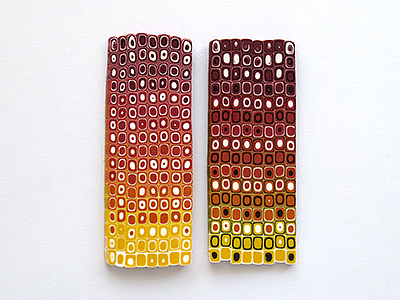 Here you can see the difference between a cane only made with white circles and the one I just made with the white AND black circles.
Now reduce the cane a bit to get rid of all the air that might be trapped in between the layers and use your cane for many beautiful projects like bracelets, necklaces, pins, pendants…..
Have fun and happy claying!
© Bettina Welker, 2012
You are allowed to share this tutorial freely but please give credit and link back to this page.
Also please DON'T TAKE MONEY when you teach it to another person. It's a free tutorial, so please keep it that way and teach it for free!
Thank you!